Masterton Monthly Wrap
The Masterton Monthly Wrap is a roundup of what the Council has been working on over the last month and what's coming up in our calendar.
Next steps for the Civic Facility and Hood Aerodrome
Masterton District Council last week agreed next steps in two major projects – the future of a Civic Facility, and re-scoping the Hood Aerodrome infrastructure project.
Elected members agreed to investigate costs for two options for consultation on the next steps of the planned Civic Facility project.
Option One is to do the minimum, with no further work on a new facility, noting a legal requirement to address the earthquake-prone status of the old Town Hall.
Option Two is to look at costs to:
refurbish and upgrade the existing library and extend that to include the Wairarapa Archive and an information hub
demolish the existing town hall and build a new performance space on the town hall site
refurbish the municipal and civil defence buildings (end use to be confirmed).
The new options come following consultation earlier this year with the Masterton community that reflected the Council's concerns around the affordability of the project. They will be part of next year's Long-Term Plan public consultation.
The council also created a Project Advisory Group to help redefine the project's scope, with a strong focus on affordability, and including both Wairarapa iwi, property developer David Borman and audio visual technologist Toby Mills.
The Council also agreed to a re-scoping of what will be delivered as part of the Hood Aerodrome Infrastructure Upgrade Project.
While the Government's funding agency - Kānoa - Regional Economic Development and Investment Unit (formally known as the Provincial Development Unit), has confirmed its $10 million funding with $7 millon of Council co-funding, costs have risen in the past year.
The re-scoped project will include a focus on infrastructure upgrades to support hangar development, runway resurfacing and widening, apron expansion, an upgrade/installation of security fencing (to meet CAA Qualification Certification requirements), and supporting the aerodrome to meet the CAA Qualification Certification deadline of June 2025.
No longer part of the scope is any work involving additional land purchase, including diverting Manaia Road and extending the length of the runway.
Cuppa with the Mayor
To mark the United Nations International Day of Older Persons, Masterton Mayor Gary Caffell will be hosting a morning tea at Masterton District Library at 10am on Monday, 2 October.
Come along and hear about life leading Masterton District Council - and, yes, there'll be time for questions!
Drill Hall memorial
Masterton Mayor Gary Caffell cut the ribbon on a memorial to Masterton's Regimental and Drill Hall on the corner of Chapel Street and Lincoln Road, Masterton.
The project was driven by historians Alan Fielding and Neil Frances, who approached Masterton District Council for land for the memorial. The Council agreed to provide land on the edge of the Council carpark, and in 2021 the project was awarded $6,750 towards the creation of the metal figures through the Masterton Arts Fund.
The drill hall was built in 1886, close to the site of the memorial which also commemorates the 17th Ruahine Infrantry Regiment and the 9th Wellington East Coast Mounted Rifles Regiment.
The hall was replaced by a new building after WWII, but the original building was used by the Masterton Amateur Theatrical Society until 1979. It was demolished in 1981.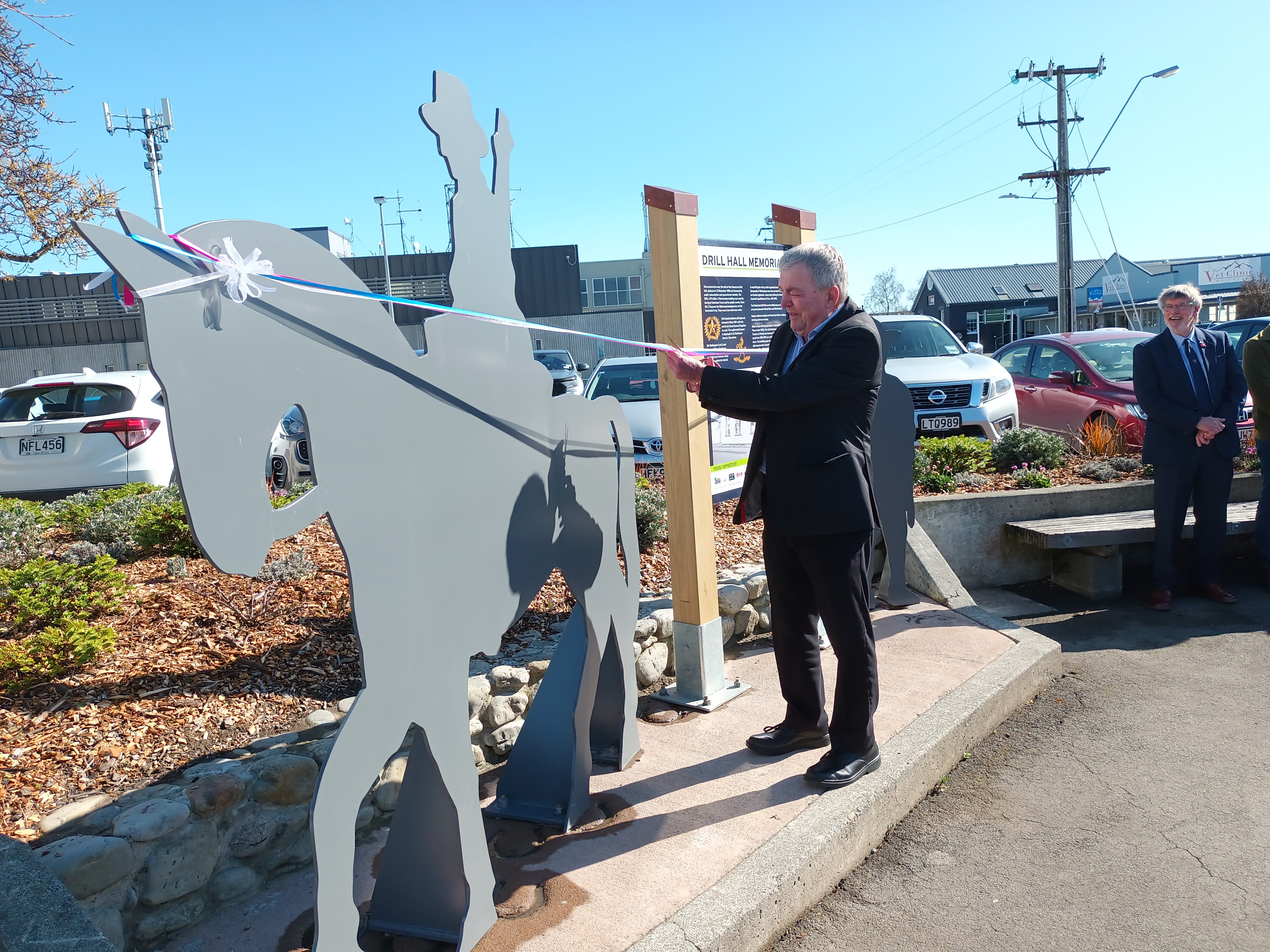 Battery recycling
Battery recycling is now available at Riversdale and Castlepoint transfer stations as Earthcare Environmental takes over end-to-end management of the battery recycling trial for Masterton and Carterton District Councils. Customers will notice new signage at transfer stations, with Earthcare also applying tape to battery terminals before they are shipped to Upcycle in Auckland for recycling.
Cultural festival a hit
A vibrant cultural festival was the culimination of Welcoming Week in Masterton, aimed at showing newcomers to our community, from other parts of New Zealand and other countries, that we value what they add to the District.
The festival saw Park Street closed to traffic, with food stalls and entertainment representing some of the diverse cultures that call the District home.
Welcoming Week saw more than 40 people taking part in a Welcoming Walk around significant sites in Masterton and a Human Library event, where newcomers told of their journey to Wairarapa.
A Bollywood Ladies' Night was also very well attended.
Peter Laing Memorial Trust grants open
Applications are now open for Peter Laing Memorial Trust grants for people who intend to follow a practical farming career.
Grants can be used to pay for practical training or specialist equipment. Applicants must be a resident in Wairarapa or have strong links with the region, and:
a focus on pastoral farming with a planned career path
a strong desire to expand their knowledge and interest in agriculture
The Peter Laing Memorial Trust Grant Round 2024 closes at 4pm on Friday 10 November. Application forms are available on the Council website, or at the Council's offices at 161 Queen Street and 27 Lincoln Road, and Masterton District Library, 54 Queen Street.
It's clean-up time!
Now is a great time to check that trees, shrubs, and hedges on your property are not growing over footpaths and other public space.
Shrubs and hedges need trimming to ensure that they are not hindering access. Trees should be cut back to the boundary - they must not hang lower than 2.7 metres.
If you have trees with branches near power lines, you should contact Powerco on 0800 769 372 for a list of qualified contractors who can carry out the work safely.
It's a good time to ensure the rest of your section is also tidy.
If you have a stream or water race running through your property, these must be clear of flax, grass, weeds and litter to keep the water flowing and avoid flooding.
Dispose of any waste that could attract rodents – it is far cheaper and easier to remove rubbish than to remove pests!
Council Meetings
The meetings of the Council and its committees for the coming month are listed below.
Unless specified, all meetings will be held in the Kiwi Room at Waiata House, 27 Lincoln Road, Masterton. Members of the public are welcome to attend these meetings. The meetings will also be accessible to the public via the livestream on the Masterton District Council YouTube channel.
Agendas will be available on our Minutes and Agendas page and copies will be available for inspection at the main Council office, 161 Queen Street, and at the Library, 54 Queen Street, two working days prior to the meeting.
Opportunity for Public Comment
At the beginning of some meetings there is time for people to speak on anything relevant to the meeting. Requests to speak at a meeting should be made to Harriet Kennedy, Governance Team Leader by calling 370 6300 or emailing mdc@mstn.govt.nz at least one clear day before the meeting.
What's On
Wednesday 20 September
9am Extraordinary Council meeting to consider the final detailed design for the Transport Choices Eastside Link Cycleway, to receive the Masterton District Licensing Committee Annual Report and, to consider, with the public excluded, the Animal Shelter Contract for Construction
Monday 2 October
10am Celebration of the UN International Day of Older Persons, at Masterton District Library
11am Chats with the Markivist, at Masterton District Library
Wednesday 4 October
3pm Infrastructure and Services Committee meeting
Wednesday 25 October